Let me just start off by saying this to everyone who enjoys the beautiful game of football: we are extremely lucky to be living in the time of Messi and Ronaldo. These are two extremely gifted players with the type of raw talent that you don't see very often. This is why we watch. Let's get started...
CRISTIANO RONALDO
Cristiano Ronaldo - Real Madrid
As a fellow Portugee and Manchester United supporter, it will come as no surprise to say that I absolutely LOVE Ronaldo. When I had first heard that he was leaving Old Trafford for the Bernabeu, I felt like someone had shot my dog...it was depressing, to say the least. Ronaldo's pace, in my opinion, is unmatched by any other in the game, making him extremely lethal in counter-attacking situations (his speed matched with an incredible ability to make cuts across the middle is something special). One of the best things about getting Ronaldo the ball on the counter is that he's pretty efficient with both feet; while he prefers his right foot, he's shown that he can certainly find the back of the net with his left as well.
Then there's Ronaldo's free-kick ability....I'm not putting anyone else in the world in front of him in this category. His quick release causes a dipping & swerving effect that is all his own; it's almost as if he's punching the ball with his foot. Simply amazing! See below:
Cristiano is also extremely lethal in the air, making corner kicks a lot more dangerous for his side...his hang time is ridiculous. In the 2011-2012 season, Ronaldo scored 14.29% of his goals with his head (9/63). Compare that to Messi's 3 goals in the air and we obviously have to give Ronaldo the edge. (Ronaldo is 6'1'' though, so he's got the physical advantage here)
While we're talking about physcial advantage, let's look at Ronaldo's physique compared to Messi's. Standing at 6'1'', the Portuguese international has the ability to force opposing players off the ball more than Messi, who stands at only 5'7". In a game where winning the ball is about as important as any other facet of the game, Ronaldo's sheer power and quick movement makes him even more dangerous.
LIONEL MESSI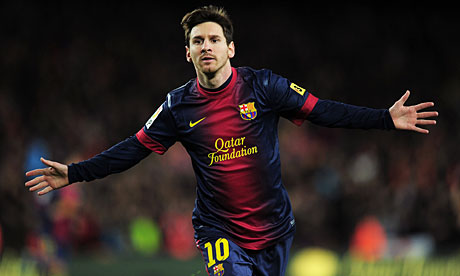 Lionel Messi - Barcelona
Lionel Messi may not have the power, pace, or physique of Cristiano Ronaldo, but he makes up for it in just about every other way. While Ronaldo uses his speed and acceleration to dart past defenders, Messi likes to play close, keeping the ball at his feet. This style of play, paired with his precision and technique, has allowed Messi to develop into the greatest one-on-one player in the game of football.
Let's take a quick look at Messi's goal scoring ability. His 91 goals in 2011-2012 was straight up extraterrestrial; I'm convinced that he's not a human being. The absolute best thing about Lionel Messi is his ability to slot one home in tight spots. As a result of his style of play, it's difficult for defenders to anticipate when he's going to take a shot. The Argentinian dances on the ball, and next thing you know he's putting one past your keeper; he's that quick. His ability to make defenders miss is also nothing short of amazing. Check out this run he made vs. Getafe. Stunning!
SO WHO'S THE BETTER PLAYER?
Messi is widely known as the best player in the world. His record 4 straight Ballon d'Or titles speak for themselves. I believe that it comes down to preference and team needs. These are two very different players who are great in their own ways. Most would agree that Messi has had a better supporting cast over the years, playing alongside Xavi and Iniesta (who are easily two of the best passers in the world). The Barcelona squad that beat Manchester United in the 2011 UEFA Champions League final may also be the best club team ever to play the game. Meanwhile, Ronaldo has shown that he can be dominant on two different teams in two very different leagues. Ronaldo has had the reputation of not showing up in big games and being a diva, but I feel as though he's starting to shed that image a bit (8 Champions league goals thus far in 2012-13). I feel as though Ronaldo also has to put in alot more work to perform at the level he does, where Messi's natural talent is definitely superior in comparison. If I had to choose, I'm taking Messi; his skill on the ball is like nothing I've ever seen. Ronaldo is a BRILLIANT footballer, but I have to give Messi the slight edge.
Share your opinion! Who's the best in the world, and why?